The LinvilleGorge.net map is the default unofficial trail map for the Linville Gorge community. It was developed over many years by Ken Crump and the dedicated Gorge Rats of LinvilleGorge.net.
The LinvilleGorge.net map includes parking, campsites, water sources, and other points of interest. All official US Forest Service trails are included, as well as the many unofficial trails found in the gorge. This map's completeness and ongoing development by the gorge community make it the preferred map of most gorge enthusiasts.
This excellent map is now available for your smartphone.  First you'll need to install the free Avenza Maps app.  Everyone loves this app!  The best feature is the "you are here" marker, showing you exactly where you are on the map even if you don't have cell phone reception.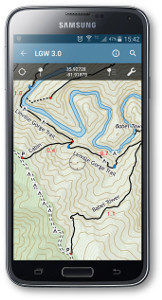 Download LinvilleGorge.net Map for Avenza
Works with Free Avenza Maps Phone App
No matter how much you love your phone, it's always best to have a printed map as a backup.  Printing Tip #1: laser printing stands up to moisture better than ink jet.  Printing Tip #2: Rite-in-the-Rain sells weather resistant, laser print paper.  Printing Tip #3: Print shops offer surprisingly inexpensive color laser printing on 11″x17″, and may even let you use your own weather resistant paper.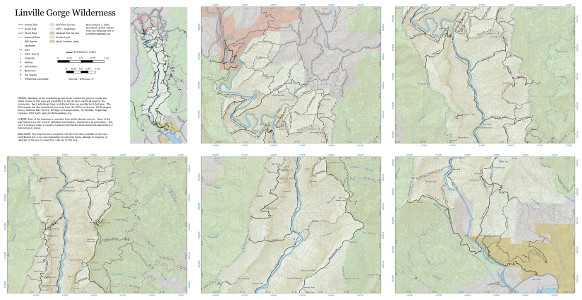 Download for Home Printing
Prints on 6, 8-1/2″ x 11″ Pages
PDF (18.3 MB)
Some of us still use GPS units!  The LinvilleGorge.net map is available as a GPX file, with some tweaks to improve display in Garmin units.  GPX files are compact and work in a wide variety of software.
Download for GPS Units
Includes Tracks & Waypoints
GPX (1.1 MB)
Some Garmin GPS units support the use of Garmin Custom Maps as a basemap/background.  If your unit supports this feature, you can download the following file and copy it to your unit's custom maps folder to have The LinvilleGorge.net Trail Map as a background.
Download Garmin Custom Map
Customizes Your GPS Unit Background
KMZ (3.4 MB)
GIS users may be interested in a georeferenced raster.  The LinvilleGorge.net Trail Map is available as a GeoTIFF that works well with software such as ArcMap, QGIS, Google Earth Pro, and Avenza Maps.
Download a GeoTIFF Image
May Require Specialist Platform
GeoTIFF (22.5 MB)
If all of these specialized formats are causing you technical trouble, you can also download a plain ol' JPG image that can be viewed on just about any platform.
Download a JPG Image
Viewable on Many Different Platforms
JPG (21.4 MB)
For trip planning, nothing beats the 3-D environment in Google Earth.  The LinvilleGorge.net map and many others can be explored in the LGMAPS Collection for Google Earth.
More information and lots of great support can be obtained on the LinvilleGorge.net Forum.